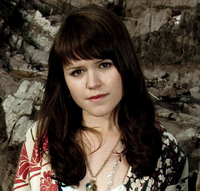 Marthe Bernard
(born in St. John's, Newfoundland and Labrador, Canada) has been acting since the age of ten. She first appeared in the award-winning short "When Ponds Freeze Over" (1998). Since then she has acted in numerous independent films and commercials in St. John's, as well as appearing in Mary Walsh's 2006 dark comic feature, "Young Triffie".
Marthe has also embraced theatre work in her young career, spending two years at Theatre school on the west coast and at summer theatre festivals in Newfoundland. In Sept. 2009 she played the role of Molly in Rabbittown Theatre/White Rooster's production of "Sex, The Rules Of", which toured to the Halifax Fringe festival. She continues her acting training, most recently studying in workshops at RADA in London, England and with Ben Ratner in Vancouver, BC.
Ad blocker interference detected!
Wikia is a free-to-use site that makes money from advertising. We have a modified experience for viewers using ad blockers

Wikia is not accessible if you've made further modifications. Remove the custom ad blocker rule(s) and the page will load as expected.