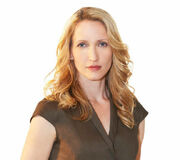 Michelle Nolden
(Born in Brantford, Ontario, Canada) is a Canadian actress. She has appeared in numerous films and television shows including ZOS: Zone of Separation, Numb3rs, Street Time, Earth: Final Conflict, The Time Traveler's Wife, Men with Brooms, Republic of Doyle as well as directing and writing a film called Loonie. She has been nominated for an ACTRA Award and a Gemini Award.
She protrays Allison Jenkins on Republic of Doyle.
Ad blocker interference detected!
Wikia is a free-to-use site that makes money from advertising. We have a modified experience for viewers using ad blockers

Wikia is not accessible if you've made further modifications. Remove the custom ad blocker rule(s) and the page will load as expected.